Thirty years ago, I went backpacking in Yosemite.   I was seven years old.   Each year at my school in Pleasant Hill, California, we went on a week-long camping trip.  That year we were off to Yosemite Valley, and a select number of us opted to backpack up to Half Dome (in case you don't know, Half Dome is a huge rock shaped like a dome cut in half and probably one of the most famous sites in Yosemite).   For me, as the youngest one to volunteer,  this was a big deal:  I felt a certain boldness and excitement inside, and the belief that "Yes, I can do this!"    I felt the desire to distinguish myself… also, I felt the desire to impress the second grade girl I had a crush on  (side note:  to my knowledge she never noticed I went backpacking nor noticed me, lol, but ultimately that didn't end up mattering).
As it turns out, my well-intended bravery was a bit premature:   I made the backpacking part no problem, yet when it came to actually climbing Half Dome,  I panicked.  There I was, halfway up the dome.  Beset by physical fear as I looked down the long, imposing rock, I conceded: "I can't! I'm scared!"  Fortunately, my dad was there to carry me the rest of the way to the top.  I admit, I felt like a real loser for letting this happen, even though I was only seven.  However, at least I could in good conscience wear the t-shirt that said "I made it to the top of Half Dome."
That was thirty years ago.
Fast forward to this summer:  two weeks ago, I returned to Yosemite for a backpacking trip, this time by myself.  I had gone backpacking in Yosemite with my brother last year (read about it here).  Yet this time around I went on my first solo expedition  (And no, I didn't attempt to climb Half Dome—and for the record, I'm fairly sure that I went up it by myself once or twice when I was a bit older than seven).
In a way, what made my 2017 trip important to me was that I said to myself, "Yes I can do this… by myself!"  And so I did…  This time without my dad to carry me all the way to the top of course… nor anyone else to lean on for that matter.
Below are some pictures and notes from my trip.  I hope you enjoy 🙂
Yosemite: The Sequel!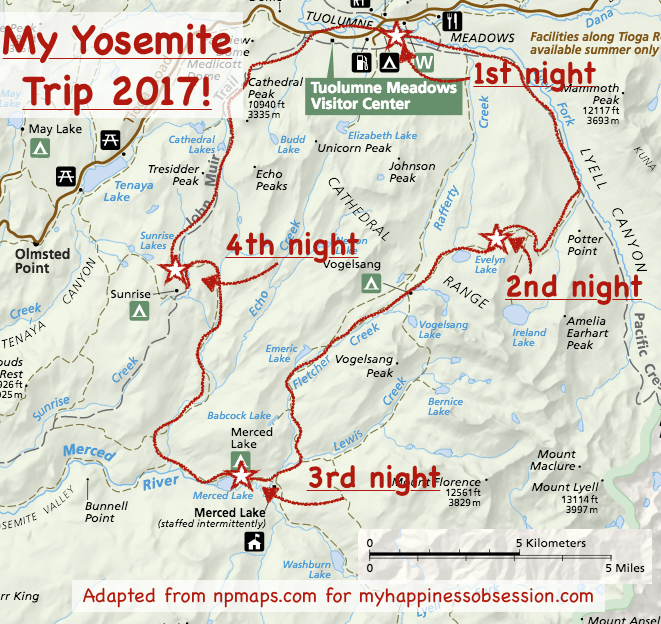 For this trip, I started in Tuolumne Meadows and took the John Muir Trail into Lyell Canyon, from there ascended over 1000 feet to Evelyn Lake, then descended 3000 feet down to Merced Lake, then another ascent up to Sunrise Camp, then took the long hike back to Tuolumne Meadows.
All in all, much water and power bars were consumed, and much fun was had!
A DAY-BY-DAY LOG OF SORTS:
Day One:  At the Helm!

It was a Tuesday, and somehow my friend Caleb and I, different cars with no cell phone reception, made it up to Tuolomne Meadows.  The day got off to a slow start, as I had to sort out the details of my impending backpacking trip.  Talking to the ranger at Tuolomne ranger station helped a lot.  One memorable moment:  when I filled out the permit form and wrote in my name as the "Trip Captain."  Something about that stuck with me.
By about 2pm or so, Caleb and I finally got on the trail for our day hike. It went well, we went up to lower Cathedral Lake where we hung out for awhile before returning back to Tuolomne. The very first thing was visit the snow that existed next to the lake in surprising abundance (see pic).   After my friend left, I made my way in the dark over to the backpackers camp in Tuolomne Meadows to rest up for the "real trip," to begin in the morning.
Day Two: Lessons on the Trail!

First thing in the morning, I needed to make one last stop in civilization, so I took a steep drive down the mountain to Lee Vining to buy gas for my journey home at the end of the week.  I finally made it on the trail in full backpacking regalia at about 11am… with a pack that was way too heavy and inefficiently packed.  Within a couple of hours of hiking mostly on flat trail, I was already tired out.   However, the real challenge of the day was the ascent up to Evelyn Lake:  ascending over 1000 feet in 2 or so miles.    I survived this difficult incline with my heavy and inefficient backpack and my clueless novice backpacker's mindset, yet not surprisingly was totally tired out afterward.  I also got a bit stressed when it started raining, but thankfully the rain was short-lived. After a long, harrowing hike, I set camp at what I thought was Evelyn Lake (as it turned out, it was not Evelyn Lake but a smaller sibling about half a mile away).  Elevation: about 10,300 feet.  Fortunately, a very nice backpacking couple also happened to settle here, and we made good conversation about backpacking, running (they are both runners like me, too) and, as the night grew dark and the stars came out, the cosmos.   All in all, despite some tricky moments, my first day backpacking turned out all right.
Day Three:  (More) Lessons on the Trail!

Day three started out blissful and easy, coasting on beautiful, high mountain terrain.  I took my time and enjoyed the scenery of a long flat, grassy plain alongside Lake Evelyn, where I felt strangely like I was on a plain in some beautiful foreign country (perhaps Ireland or the Swiss Alps).   The first part of my hike consisted of about 6 miles of a leisurely descent.  I guess it spoiled me a bit, because I did not anticipate the downhill hell that awaited me for the last few miles:  a 1000+ foot drop down a windy trail filled with cobbles that were hard on the feet (and led to blisters).  What made this even more nerve-wracking was the ever-thickening smoke that filled the valley from Yosemite fires on the other side of the mountains. All in all, I went down 3000 feet that day.    After what turned into a discouraging and difficult hike, I was rewarded at Merced Lake backpackers camp by meeting a friendly group of backpackers who spontaneously came together with me (3 individuals including me and a couple).  We laughed and enjoyed a fire while regaling stories of our respective trips.  Elevation:  7200 feet.
Day Four:  Backpacking Ninja Warrior Status ! (Okay, Super-Cautious TURTLE Backpacking Ninja Warrior Status)

I was by now prepared for the ardor, ten miles, 2000 foot rise in elevation.  For this I took my time and engaged the trail with almost a ninja's level of focus on maintaining my energy for the duration.  I took frequent breaks to catch my breath, and even attempted a nap at one point.  As a result of my care, my hike took a lot longer, over 8 hours (instead of the 6+ hours I hike the other two days).  Yet for the first time I wasn't completely tired out after.  Stayed at Sunrise Camp, at about 9200 feet.
Day Five:  Cruising on Home!

Eager beaver that I was, hiked all day to return to my car… with an hour pit stop for lunch once I got back to lower Cathedral lake (where I had gone with Caleb my first day), where I took this pic:
At Cathedral Lake, for the first time on my trip I remember actually feeling relaxed… probably it was knowing that the trip was almost over.  Perhaps it was the fact that I had taken the last few miles of trail four days earlier.  I scaled the final stretch in record time (for me, at least) to get back to my car, for the final leg of the trip: the drive home.
Overall:  A Triumphant, Joyful Adventure!

I figure I probably hiked about 50 miles, including the first day with a light back pack.  As I write these notes a week after I returned, today I took a two and half hour nap in the middle of the day… evidently I am still resting from the trip!
ADDENDUM: What I love about backpacking
I love the simplicity of backpacking.  While you are out there, you have simple, concrete tasks.  Everything is concrete:  get up the hill, eat lunch, purify water, set up camp, cook food, put the food away in the bear canister, socialize with others around, go to sleep… Life is purposeful, I am purposeful, and I have never noticed such steady, effortless productivity in me, where every action I take is directly beneficial in attaining a very practical goal… whether that's getting to the next campsite, or getting my backpack packed before the day's outing..  Whereas in  daily life, things can seem so complicated, with a lot of focus on abstractions.  Things such as TV, social media, paying bills, "running a business," these things involve complex abstract ideas and results.  Whereas,  when you are on a mountainside and you need to climb up a trail and not fall off a cliff, or you need to purify water in the creek nearby, your focus is profoundly on the here and now!
I love this.
Backpacking is also a great chance to think about my life, away from it.  It is like a working vacation, one filled with useful service and a sort of leisure because it is still my time.