I have always been a big cereal fan.  Ever since I was a child, I have associated cereal with comfort food… and with home.  Up until recently, my wife liked to joke that I had 4 bowls a day of the stuff.  I think not!  But I almost always had one bowl, often had two bowls, and very occasionally 3 bowls… per day.
Oh how things have changed.  Since I started intermittent fasting and getting off sugar, my old m.o. is now gone… Or at least, my eyes have been opened, and I can't merely go back to the way things were.  While I have occasionally indulged in a bowl of standard cereal, the former sense of satisfaction has been forever altered by my new dietary awareness. Now I am looking to avoid processed sugars  and to reduce carbs overall.
Fortunately, my wife came through with her own adaptation of a special type of granola she found online.  This baked, sweetened nutty concoction has helped make this brave new eating world much more tasty and bearable.  I have dubbed it "The Cereal of the Gods."
Here is a recipe for "The Cereal of the Gods," complete with pictures:
RECIPE FOR "THE CEREAL OF THE GODS":
Ingredients:
1 cup chopped pecans
1 cup shredded (or flaked) coconut
1/2 cup chopped macadamias
1 cup chopped walnuts
1/3 cup of chia seeds
powdered Stevia (sweetened to taste)
1 tbs cinnamon
1/4 tsp salt (or more to taste)
1/2 cup coconut oil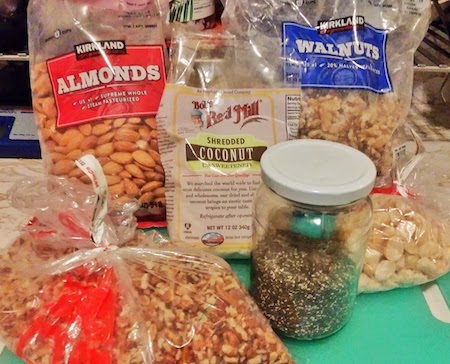 Directions:
1. Preheat oven to 300F.
2.  Chop all nuts.  Rough chop is okay.  The cereal likes to be chunky.  It doesn't need to be too fine.
3. Combine all dry ingredients in a large bowl.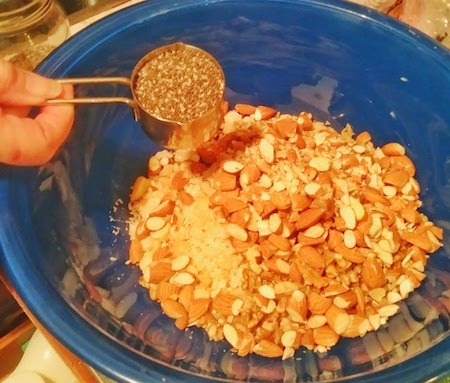 4. Melt coconut oil in pan if necessary.
5. Add melted coconut oil into mixture.  Mix to make sure all the cereal is well-coated and lightly glistening.
6. Pour contents into glass baking dish, patting it down to spread evenly.
7. Bake cereal in oven for 10 minutes.
8. Take cereal out of oven, mix again with spoon, then put back in oven for 10 more minutes.
9. Pull cereal out of oven, mix once again, turn oven off, then let cereal sit in oven for 15 more minutes.
10. Take cereal out of oven, and put on counter to cool thoroughly.
11. Serve with your choice of fruit and/or cream, yogurt, or milk.