In case you didn't know, the sales book industry is alive and well, with a robust tradition that goes back to 20th Century Classics such as "Think and Grow Rich" (Napoleon Hill), and "The Greatest Salesman in the World" (Og Mandino).  These books dovetail with self-empowerment literature ranging from the likes of "Awaken the Giant Within" (Tony Robbins) to "The Seven Habits of Highly Effective People" (Stephen Covey) and many, many others.  I have read many such books and also learned from numerous sales- and empowerment-oriented mentors.  I am inspired by these people's abilities to communicate about and encourage a positive mindset not only about sales, but also about interacting with others and about the limitless possibilities of being human.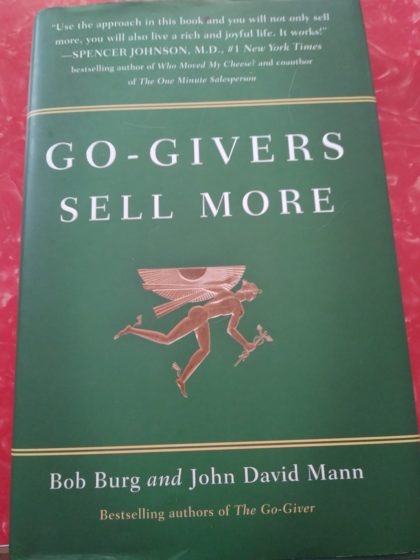 I'm currently reading "Go-Givers Sell More" (by Bob Burg and John David Mann).  This is the 2nd book in the bestselling "Go-Giver" sales book series.   "Go-Givers Sell More" caught my attention one day when I was at the bookstore looking for a gift for my wife.   I hadn't read any of the books in the series (it started with "The Go Giver"), but, in perusing the book jacket, I liked the premise: that sales should be about giving, not just getting.
With chapters that tend to be about 4 or 5 pages long and a length of fewer than 200 pages, "Go Givers Sell More" is an easy-to-read manual that makes the point that, when you are interacting with people, you need to focus on adding value and helping others, not merely making the sale. This essentially turns the stereotypical pushy salesman type on his head and creates a new archetype: the conscientious, relationship-oriented service provider who listens well, finds out what you really want, and collaborates with you on getting it.
This philosophy is not new.  There are plenty of authors, including those I have already mentioned, who espouse similar views.  Yet "Go-Givers Sell More" puts an unabashedly friendly face on the whole idea of sales, and I like that.  It reminds me of a book I read called "Sales Dogs," by Blaire Singer.  This book asserts a novel idea: that to be successful in sales, you don't need to have skin as thick as the Great Wall of China or be able to talk to 500 new people every day.  Unless that suits your sales personality.  In "Sales Dogs,"  different sales personalities are represented as dogs: you have the aggressive "bull dog" type; the high status "poodle" type; the highly-energetic "chihuahua" type; the people-pleasing "golden retriever" type ( I believe this is my wife),;and the loyal, trustworthy "basset hound" type (this is me).
"Sales Dogs" was a revelation for me because it was the first time I really got the message that it's okay to be something other than a fearless bulldog, aggressively going for what you want in the world (and taking no prisoners).  Personally, I prefer the idea of being trustworthy and consistent, and building positive relationships that last a long time.
"Go-Getters Sell More" essentially reaffirms the idea that in sales it is okay to be myself.  Specifically, there were a few points in the book that stood out for me:
(I'm summarizing these in my own words)
What you sell is your MacGuffin (which in movie-speak is a plot device around which the plot centers).  For me, that would be piano lessons, and recorded or live music.  But that's just the surface level of the story.   The intangible benefits that people get from you are even more important. In the case of music lessons, my students get the empowerment to enjoy learning; in the case of performed music, my audiences have fun and get inspired.   It's essential to know what value you are giving them, and to always strive to give more value regardless of the MacGuffin that gets you in the door.
Always be benefit-oriented in your communication.  As in, tell people how they stand to benefit from you… don't just describe what your product or service is.  Be them-focused, not you-focused.
Listen to what people say, especially when they offer objections to your offer.  They are not rejecting you, defying you, or being disrespectful… they are simply asking for clarification.  This is an opportunity to partner with them, to help them feel more comfortable taking action.
"Go-Givers Sell More" succinctly and elegantly paints the portrait of a cooperative, sympathetic salesperson who doesn't engage in any of the traditional sales tactics that give sales a bad name.  I find this comforting and reassuring, because it takes away the onus of having to be aggressive and places the emphasis rather on giving value (although admittedly I first heard this idea from Tony Robbins).  Overall, the book can be liberating for "positive" types like myself who want to authentically make a difference for others … while helping our bottom line.